Mee ka ndụ nwee ọganihu, Thrive Market, and Thrive Le-Vel – Unraveling the differences between these thriving brands. Before we compare these three companies with similar sounding names, let us look at a brief meaning of what they do.

Thrive level is a line of products manufactured by Le-Vel. The THRIVE level is a combination of THRIVE Premium Lifestyle Capsules, THRIVE Ultra Micronized Lifestyle Shake Mix, and Premium Lifestyle DFT (Derma Fusion Technology). They boast of premium naturopathic and synergistic formula of Vitamins, Minerals, Plant Extracts, Anti-Oxidants, Enzymes, Pro-Biotics, and Amino Acids. They provide an experience that is gender specific for Men & Women.
Thrive Premium Lifestyle capsules are designed for men and women

.

Premium Lifestyle capsules are designed to be taken as soon as you wake up on an empty stomach

.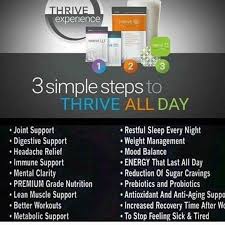 Thrive capsules are an all-natural naturopathic formula of vitamins, minerals, herbal extracts, antioxidants, enzymes, probiotics and amino acids and is the first and only ultra-premium formula ever developed.
Weight control

Cognitive performance

Joint support

Inflammation support

Anti-aging and antioxidant blend

Lean muscle support

Digestive and immune support

THRIVE Premium Lifestyle DFT Is a wearable patch and a technological advancement focused on health, wellness and weight management and should be applied immediately after drinking the Thrive Shake.
The Thrive level DFT patch formula increases metabolic rate, promoting clean, healthy weight management, without contributing to muscle breakdown or deterioration like most weight loss products available.
THRIVE Premium DFT is the icing on the cake. Using the DFT patch with THRIVE level Premium Lifestyle Capsule and THRIVE Premium Lifestyle Shake Mix completes the THRIVE level 8 week experience. You will get ultra-premium, unmatched results in nutrition, weight management and fitness.
Weight control

Mental clarity

Appetite control

Derma Fusion Technology

Metabolic support
Thrive level Premium Lifestyle Shake Mix is designed to complement the Premium
Lifestyle capsules and should be taken 20 ka 40 minutes after taking the capsules.
Ultra-micronized

Formula rich in nutrient minerals

Blend of probiotics and enzymes

Blend of antioxidants and extracts

Lean muscle support

Weight control or fitness

Gluten free
Na mgbakwunye, customers also take capsules and drink special Thrive nutritional shakes. And because health (and weight loss in particular) involves more than what you put into your body, Thrive Experience also incorporates tailored eight-week fitness plans.
Back to the patch, capsules and shakes, specifically, what exactly do you put into your body when you embark on the Thrive experience?
Taking a closer look at the ingredients reveals that these products are basically made up of vitamins, amino acids, enzymes, and probiotics (all that the body needs, but many diets lack), as well as the product of weight loss.
Of natural Forslean origin and a good amount of coffee bean and green tea MDFVFD
That is just about everything. You won't find any weird chemicals or barely legal drugs hidden in Thrive products. What you will find is a who's who of useful nutrients. And when combined with the aforementioned fitness plan, it lends some credibility to the weight loss and wellness claims attached to the Thrive brand.
MOST ADVANCEDCBD SKINCARE SYSTEM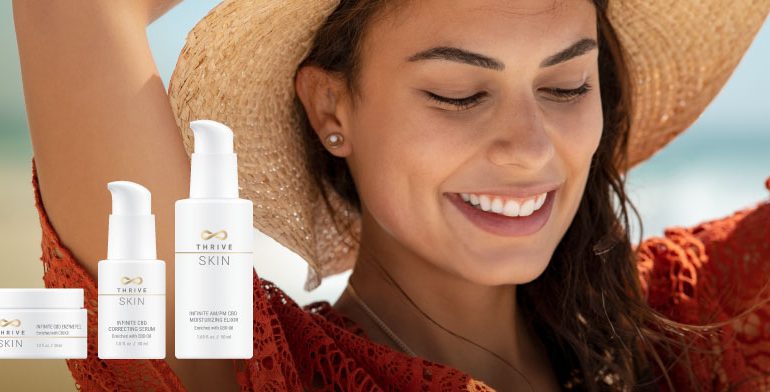 Thrive life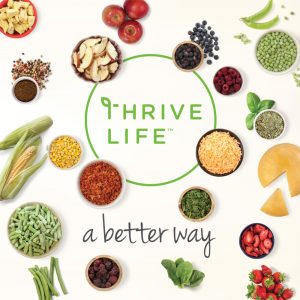 Thrive life (Not to be confused with Thrive Market) is a food company that sells freeze-dried groceries through tiered marketing.
Without a doubt, the question people often ask is "do you have any organic products?" And the answer is yes. Some products are certified organic, but it's a little more complicated than that.
See that getting a certified organic farm is a long and expensive process. You can grow your fruits and vegetables organically throughout the day, but because the USDA has the organic label, you can't make them all organic unless you go through this long and expensive process.
So the next time you buy organic veg at the grocery store and start praising yourself for paying "the real price of food," remember that you are actually paying the real price of the bureaucracy. Thrive life is on site where you get both natural and organic products.
Thrive life Ingredients reviews
I have done few researches on thrive life products and I have, as well, written a few articles on it. for this period of time, I have become a huge fan of Thrive's single-ingredient products because here's the thing: they really are an ingredient. Chicken may contain chicken. Strawberries contain strawberries. Kale.
They are frozen, dried and thrown into a box with an oxygen absorber. No need for preservatives.
Let's take a brief look at Thrive products
There are a lot of things that come in snack bags for convenience, but there are three things that only come in snack bags. These are fries of beets, carrots and spinach. If you're having a hard time getting your kids to eat beets or spinach, this is the answer you've been looking for!
Beetroot fries taste like a mixture of peaches and apples, and that's exactly what the anthem is: peach puree concentrate, applesauce concentrate, cranberry juice concentrate, juice concentrate beetroot, cranberry.
Spinach fruit snacks contain apples, oroma, bananas, and spinach, while carrot snacks contain peaches, strawberries, apple juice, carrot juice, and black carrot juice.
This is where I get a little bored and unpopular with my fellow Thrive Life enthusiasts. I'm not a big fan of yogurt bites.
Sugar comes first, before yogurt. Then, after yogurt, there is usually concentrated fruit juice (based on flavor), tapioca starch, flavor (what is it?) and riboflavin.
Comparing three Thrive companies
Mee ka ndụ nwee ọganihu (at ThriveFreeze.com we sell Thrive Life Freeze Dried products) only sell pre-made products, just add water. These types of products have their place. You take them for emergencies sometimes when you can't cook. They are also nice to have during daytime when you have a busy schedule. Ọzọkwa, when you are not organized yet and just need a quick meal.
Mee ka ndụ nwee ọganihu, nwee ọ marketụ ahịa, Honeyville, and Augason Farms have products available as individual ingredients in separate boxes. This means that they are easy to use and run in your own old, usual recipes. This allows you to "eat what you store and store what you eat". Thrive life only offers a few "just add water" meals, na-eme nke ọma larịị eleghị anya na-enye ndị kasị (mana ha nwekwara ọtụtụ nri nwere otu ihe).
Thrive na-enye ọtụtụ mkpọ otu ihe na-enweghị ihe nchekwa / ihe mgbakwunye. Nke a pụtara na mkpọ nke agwa akwụkwọ ndụ akwụkwọ ndụ bụ nke ahụ: 100% mkpọ, agwa akwụkwọ ndụ akwụkwọ ndụ oyi kpọnwụrụ ma ọ bụ nke esibeghị ya. Ahịa na-eme nke ọma na ọkwa na-eme nke ọma nwekwara ọtụtụ ngwaahịa ndị a, ọ bụ ezie na Thrive nwere ọtụtụ n'ime ha. Ụlọ ọrụ atọ ahụ nwere igbe ngwa ngwa nke ọ bụla nwere ihe mgbakwunye ma ọ bụ ihe nchekwa, ọ bụ ezie na-eme nke ọma nwere nke kacha nta. Jide n'aka na ị gụọ akara, if this is important to you.
Thrive life offers a few more things that make using your food easier:
A monthly cooking show with a professional chef

(

Chef Todd

),

H

A recipe site featuring Chef Todd's recipes as well as numerous consultants and customers revenue

The Thrive Guide

:

a book with tips on how to use most of their products

.
I don't know if thrive market and thrive level offer this type of support for learning how to use their products. When one knows how to use the product, the turnover is much easier and the waste is much less.
No matter where you choose to buy your food, if you want to make the rotation easier, Thrive Life has some fantastic food rotation systems – some for your pantry and others that are stand-alone.
Thrive Food packaging comparison
Most food storage comes in 10 tin cans (1 gallon cans), 5 ka 6 gallon pails, or in bulk (you have to pack it yourself). Sometimes wrapping the food yourself can be the cheapest option. This make these foods vary in quality.
Thrive cans are double coated to prevent rusting on the outside or a "tinplate" taste on the inside. The last time I checked, Thrive Food uses thickest, highest quality cans of any company. Their cubes also come with a gamma cap which is amazing.
Amụba ndụ ngwaahịa
Iri nri nke ọma bụ ihe ọtụtụ mmadụ na-achọ ime taa. Dị nnọọ n'ihi na ị chọrọ iri nri ahụ nri apụtaghị na ị na-enwekwu oge. Ị na-ahụ onwe gị na-achọ nri abalị echiche, nke ga-agụnye ngwa Ezi ntụziaka na-abụ mgbe nile ike. Ọ dị mfe ịchọta efere ị ga-achọ ịme ugboro ugboro.
N'agbanyeghị ụdị nri ị masịrị iri, ị nwere ike ịchọta echiche nri nke ga-egboro mkpa gị. Ihe niile dị, site na nri ngwa ngwa iji nweta nri na tebụl ruo mkpụrụ osisi dị mma, nri wdg. Naanị ihe ị ga-eme bụ ikpebi ndị ị ga-ebu ụzọ nwaa.
I nwedịrị ike ịchọta ezigbo nri abalị maka onye anaghị eri anụ. Enwere ezigbo ezigbo nri dị mma ịhọrọ; ọbụna ndị hụrụ anụ n'anya nwere ike ịhọrọ ịnwale efere ndị a site n'oge ruo n'oge. Ọbụna ka mma, dị ka ọtụtụ efere gụnyere anụ na protein, nri ọka, ozigbo osikapa nduku iberibe wdg. na-enye a nkenke nchịkọta nke ihe na-eme nke ọma ngwaahịa.
Mixed mkpụrụ osisi (strawberries, bluuberi na ube)
N'ezie, mkpụrụ osisi ọ bụla ị ga - agwakọta ngwa ngwa dị mma. A tomato bụ ezigbo isi mmalite nke eriri na antioxidants. Maka mma, ị nwedịrị ike ịzụta nnukwu akpa nke mkpụrụ osisi oyi kpọnwụrụ ma bulie akụkụ achọrọ n'ụtụtụ ma ha kwesịrị ịdị njikere iri n'oge ụtụtụ..
Carọt bụ ezigbo ihe na-akpata eriri na vitamin A. Uwe a na-acha ọkụ ọkụ adịghị mma dị ka iri karọt, but only a small amount provides that extra boost to make it look "flavorful" ". Aga m aga ebe ana-azu umuanu n'ihi na, n'uche nke m, ebe ana-azu umuanu nwere abuba nwere uto di egwu … naanị debe ya 2 tablespoons ma ọ bụ obere.
Mixed mkpụrụ osisi (strawberries, bluuberi na ube)
N'ezie, mkpụrụ osisi ọ bụla ị ga - agwakọta ngwa ngwa dị mma. A tomato bụ ezigbo isi mmalite nke eriri na antioxidants. Maka mma, ị nwedịrị ike ịzụta nnukwu akpa nke mkpụrụ osisi oyi kpọnwụrụ ma bulie akụkụ achọrọ n'ụtụtụ ma ha kwesịrị ịdị njikere iri n'oge ụtụtụ..
Ose akwụkwọ ndụ akwụkwọ ndụ
Odo akwụkwọ ndụ akwụkwọ ndụ bụ ezigbo nri crunchy, inye ezigbo eriri na ụfọdụ nke farmhouse ihendori na-agbakwunye ekpomeekpo na-enweghị ọtụtụ ọjọọ mmetụta. Naanị debe ihendori ahụ / ihendori ka 2 tablespoons ma ọ bụ obere.
Kukumba na-emeju agụụ nke crunchy na ezigbo isi iyi nke vitamin. Gbalia hummus jiri obere zing ọzọ, dị ka dil hummus, iji mejuo agụụ nnu.
Ọ bụ okike nri zuru oke. Akwa ọkụkọ, nke mmadu na-erikari, na-kwajuru na protein na choline, nke dị mkpa na mmepụta amino acid dị mkpa. O nwere ọtụtụ vitamin, dị ka vitamin A, B2, B6, B9 na B12, na mineral dị ka calcium, site na potassium. Akwa nkochi nwere vitamin A niile, D na E. Mgbe akwa na-ata akwa, ha na-enye aru ahu ume na ume.
Ọka dị ka osikapa, ọka bali, ọka wit na ọka bụ nri ndị bụ isi n'ọtụtụ mba. A na-ekewa ha dị ka ọka, ọ bụkwa mkpụrụ akụ kachasị mkpa n'ụwa, ya na oke protein. Oats bu ọka di iche-iche nke juputara na protein. A na-enye nri nri Oat kacha mma n'oge nri ụtụtụ ka ha na-enye ike zuru ezu maka ụbọchị ahụ.
Walnuts dị mma mgbe niile. Ọtụtụ mkpụrụ bụ ezigbo ihe na-enye vitamin B2, E ma nwee akara mineral dị ka magnesium, site, ọla kọpa na potassium. Raw mkpụrụ bụ ndị bara ọgaranya na protein, folic acid na eriri. Ukpa, ma oburu na esighi ya, a na-ahụta ka ahụike, jiri okpukpu abụọ karịa antioxidants dị ka mkpụrụ ndị ọzọ.
Mkpụrụ osisi dị oke ọnụ ahịa maka ụmụ mmadụ n'ihi na ha bụ isi iyi mmiri na ezigbo eriri. Ọ bụkwa ihe okike sitere na vitamin C. Ọtụtụ mkpụrụ osisi dịkwa ọgaranya na protein, tinyere unere, apụl, anyụ, mango, piich, oroma, cherị, jackfruit na oliv. Iji mee ka ahụ gị na-edozi ahụ na protein, ị nwere ike itinye mkpụrụ osisi ndị a na nri gị. Ta ụfọdụ n'ime mkpụrụ osisi ndị a maka nri nri ga-enyekwa gị protein na-enye ahụike.
Akwukwo akwukwo akwukwo di elu na protein, obere abụba na obere kalori. Ha nwekwara vitamin C, lutein, carotenoids, folic acid na vitamin K. Ha bara ọgaranya na calcium, ígwè na eriri nri. Akwụkwọ nri protein dị elu nwere akwụkwọ nri, brọkọlị, kale na letus.
Kuki ga-enyere aka gboo agụụ a maka carbohydrates. Kuki ọka zuru oke nwere eriri na antioxidants. Na mgbakwunye na uru nke vitamin na protein na ngwaahịa mmiri ara ehi, chiiz ga-eme ka afọ ju gị ogologo oge ma gbochie gị iri nri mgbe mgbe.
Edamame bu ezigbo uzo eji eme ihe na protin. Ikwesiri ịchọta ha na agwaetiti nri nri nke nnukwu ụlọ ahịa. Mee ka ha ju akpa Sanwichi ma hichaa ya ma rie ya dika nri. Maka ekpomeekpo, tinye nnu nke nnu nnu ma kpopu ya n'ime akpa.
Ọ bụ ngwakọta zuru oke nke ụtọ na crisp / nnu. Almọnd nwere abụba, ma abụba ya dị mma. Mịrị bụ ezigbo isi iyi nke eriri. Gbalịa ịgbakwunye naanị nnu nnu nnu iji tinye obere ekpomeekpo na almọnd.
N'ezie, nri a nwere ọtụtụ ọghọm (abụba, cholesterol, sodium), ma ọnụọgụ ndị ahụ dị ntakịrị na ndị na-edozi ahụ ga-egbo gị ogologo oge iji zere agụụ na-agụ n'ọdịnihu. Ọ bụ nri dị mma ma e jiri ya tụnyere akpa nke Doritos.
Apụl bụ ezigbo eriri na vitamin C. Gbalịa idobe anụ ahụ apụl n'ihi na ọ nwere ọtụtụ vitamin C. Ahụekere ahụekere nwere ọtụtụ protein na-eme ka ọ dị ogologo. Naanị edebe karịa 1-2 tablespoons.
Thrive Market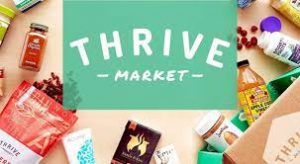 Thrive Market is an American e-commerce membership-based retailer offering natural and organic food products. It was founded by Nick Green, Gunnar Lovelace, Kate Mulling, and Sasha Siddhartha. According to their website,
It majors basically on 5 all natural, plant-based, non-GMO, gluten-free and nutritional health enhancing products all individually wrapped making them very portable and very easy to take. With all these, there's no need to mix, measure, or set reminders to take them.
Simply wake up, take 2 of the capsules and 20-40 minutes later drink the Lifestyle Mix shake and apply the DFT.
Clean Beauty, Non-Toxic Home Organic Pantry Staples
Below are few features processed by thrive market
Logging in on Thrive Market app, it's easy to use, fast and easy to use. it's easy to add things to cart as soon as you see them running out.
For nwee ọ marketụ ahịa, you pay $60 annual membership fee, and sign up. Although you can most likely find many of the same products at other online retailers and at local grocery store. But the thrilling part is, for every paid membership they offer a free membership to a low income veteran, public school teacher, or family.
Here's another bonus: If you spend more than $ 49, shipping is always FREE.
Talking about their user interface and payment process, all are very easy to navigate, they carry a lot of food and non-perishable items that we use regularly, and the packing and shipping are impressive. They use sturdy materials and do an amazing job packing the glass separately from everything else and plastic bags for anything that might leak.