Ci Gaban Rayuwa, Thrive Market, and Thrive Le-Vel – Unraveling the differences between these thriving brands. Before we compare these three companies with similar sounding names, let us look at a brief meaning of what they do.

Thrive level is a line of products manufactured by Le-Vel. The THRIVE level is a combination of THRIVE Premium Lifestyle Capsules, THRIVE Ultra Micronized Lifestyle Shake Mix, and Premium Lifestyle DFT (Derma Fusion Technology). They boast of premium naturopathic and synergistic formula of Vitamins, Minerals, Plant Extracts, Anti-Oxidants, Enzymes, Pro-Biotics, and Amino Acids. They provide an experience that is gender specific for Men & Women.
Thrive Premium Lifestyle capsules are designed for men and women

.

Premium Lifestyle capsules are designed to be taken as soon as you wake up on an empty stomach

.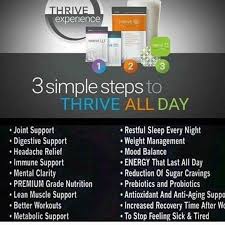 Thrive capsules are an all-natural naturopathic formula of vitamins, minerals, herbal extracts, antioxidants, enzymes, probiotics and amino acids and is the first and only ultra-premium formula ever developed.
Weight control

Cognitive performance

Joint support

Inflammation support

Anti-aging and antioxidant blend

Lean muscle support

Digestive and immune support

THRIVE Premium Lifestyle DFT Is a wearable patch and a technological advancement focused on health, wellness and weight management and should be applied immediately after drinking the Thrive Shake.
The Thrive level DFT patch formula increases metabolic rate, promoting clean, healthy weight management, without contributing to muscle breakdown or deterioration like most weight loss products available.
THRIVE Premium DFT is the icing on the cake. Using the DFT patch with THRIVE level Premium Lifestyle Capsule and THRIVE Premium Lifestyle Shake Mix completes the THRIVE level 8 week experience. You will get ultra-premium, unmatched results in nutrition, weight management and fitness.
Weight control

Mental clarity

Appetite control

Derma Fusion Technology

Metabolic support
Thrive level Premium Lifestyle Shake Mix is designed to complement the Premium
Lifestyle capsules and should be taken 20 ku 40 minutes after taking the capsules.
Ultra-micronized

Formula rich in nutrient minerals

Blend of probiotics and enzymes

Blend of antioxidants and extracts

Lean muscle support

Weight control or fitness

Gluten free
Bugu da kari, customers also take capsules and drink special Thrive nutritional shakes. And because health (and weight loss in particular) involves more than what you put into your body, Thrive Experience also incorporates tailored eight-week fitness plans.
Back to the patch, capsules and shakes, specifically, what exactly do you put into your body when you embark on the Thrive experience?
Taking a closer look at the ingredients reveals that these products are basically made up of vitamins, amino acids, enzymes, and probiotics (all that the body needs, but many diets lack), as well as the product of weight loss.
Of natural Forslean origin and a good amount of coffee bean and green tea MDFVFD
That is just about everything. You won't find any weird chemicals or barely legal drugs hidden in Thrive products. What you will find is a who's who of useful nutrients. And when combined with the aforementioned fitness plan, it lends some credibility to the weight loss and wellness claims attached to the Thrive brand.
MOST ADVANCEDCBD SKINCARE SYSTEM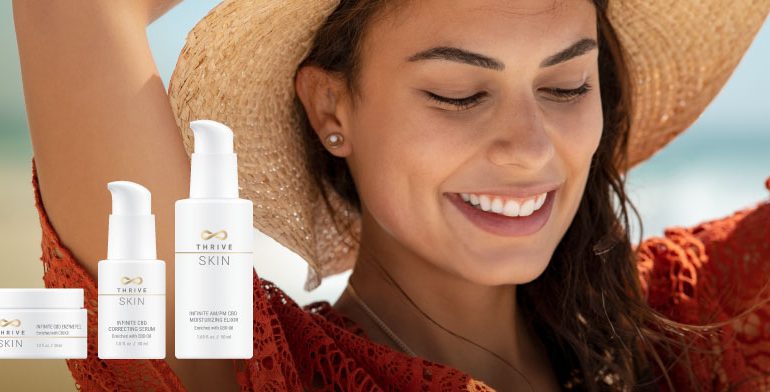 Thrive life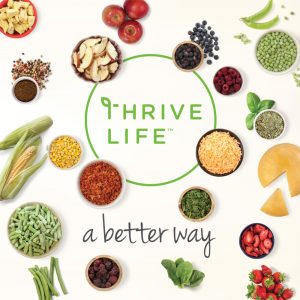 Thrive life (Not to be confused with Thrive Market) is a food company that sells freeze-dried groceries through tiered marketing.
Without a doubt, the question people often ask is "do you have any organic products?" And the answer is yes. Some products are certified organic, but it's a little more complicated than that.
See that getting a certified organic farm is a long and expensive process. You can grow your fruits and vegetables organically throughout the day, but because the USDA has the organic label, you can't make them all organic unless you go through this long and expensive process.
So the next time you buy organic veg at the grocery store and start praising yourself for paying "the real price of food," remember that you are actually paying the real price of the bureaucracy. Thrive life is on site where you get both natural and organic products.
Thrive life Ingredients reviews
I have done few researches on thrive life products and I have, as well, written a few articles on it. for this period of time, I have become a huge fan of Thrive's single-ingredient products because here's the thing: they really are an ingredient. Chicken may contain chicken. Strawberries contain strawberries. Kale.
They are frozen, dried and thrown into a box with an oxygen absorber. No need for preservatives.
Let's take a brief look at Thrive products
There are a lot of things that come in snack bags for convenience, but there are three things that only come in snack bags. These are fries of beets, carrots and spinach. If you're having a hard time getting your kids to eat beets or spinach, this is the answer you've been looking for!
Beetroot fries taste like a mixture of peaches and apples, and that's exactly what the anthem is: peach puree concentrate, applesauce concentrate, cranberry juice concentrate, juice concentrate beetroot, cranberry.
Spinach fruit snacks contain apples, lemu, bananas, and spinach, while carrot snacks contain peaches, strawberries, apple juice, carrot juice, and black carrot juice.
This is where I get a little bored and unpopular with my fellow Thrive Life enthusiasts. I'm not a big fan of yogurt bites.
Sugar comes first, before yogurt. Then, after yogurt, there is usually concentrated fruit juice (based on flavor), tapioca starch, flavor (what is it?) and riboflavin.
Comparing three Thrive companies
Ci Gaban Rayuwa (at ThriveFreeze.com we sell Thrive Life Freeze Dried products) only sell pre-made products, just add water. These types of products have their place. You take them for emergencies sometimes when you can't cook. They are also nice to have during daytime when you have a busy schedule. Suna ɗauke da kwalaye da jakunkuna na abinci daskararre da bushewar da za su iya taimaka muku da danginku na wata ɗaya zuwa sama da shekara guda., when you are not organized yet and just need a quick meal.
Ci Gaban Rayuwa, bunƙasa kasuwa, Honeyville, and Augason Farms have products available as individual ingredients in separate boxes. This means that they are easy to use and run in your own old, usual recipes. This allows you to "eat what you store and store what you eat". Thrive life only offers a few "just add water" meals, and thrive level probably offers the most (but they also have a lot of single-ingredient foods).
Thrive offers most single ingredient cans that contain absolutely no preservatives / additives. This means that a can of green beans is just that: 100% canned, frozen or never cooked green beans. Thrive market and thrive level also have many of these products, although Thrive has most of them. All three companies have individual ingredient boxes with additives or preservatives, although thrive has the least. Be sure to read the labels, if this is important to you.
Thrive life offers a few more things that make using your food easier:
A monthly cooking show with a professional chef

(

Chef Todd

),

H

A recipe site featuring Chef Todd's recipes as well as numerous consultants and customers revenue

The Thrive Guide

:

a book with tips on how to use most of their products

.
I don't know if thrive market and thrive level offer this type of support for learning how to use their products. When one knows how to use the product, the turnover is much easier and the waste is much less.
No matter where you choose to buy your food, if you want to make the rotation easier, Thrive Life has some fantastic food rotation systems – some for your pantry and others that are stand-alone.
Thrive Food packaging comparison
Most food storage comes in 10 tin cans (1 gallon cans), 5 ku 6 gallon pails, or in bulk (you have to pack it yourself). Sometimes wrapping the food yourself can be the cheapest option. This make these foods vary in quality.
Thrive cans are double coated to prevent rusting on the outside or a "tinplate" taste on the inside. The last time I checked, Thrive Food uses thickest, highest quality cans of any company. Their cubes also come with a gamma cap which is amazing.
Bunƙasa rayuwar kayayyakin
Cin abinci da kyau abu ne da mutane da yawa ke ƙoƙarin yi a yau. Kawai saboda kana so ka ci lafiya da abinci ba ya nufin ka da karin lokaci. Za ka sami kanka neman abincin dare ideas, wadda za ta hada da sauri girke-girke da suke ko da yaushe lafiya. Abu ne mai sauki a sami jita-jita wanda za a so a maimaita.
Ko da wane nau'in abinci kuke so ku ci, zaku iya samun ra'ayoyin abinci waɗanda zasu dace da bukatunku. Komai ya samu, daga abinci mai sauri don samun abinci akan tebur zuwa fruitsa fruitsan itace masu lafiya, kayan ciye-ciye da sauransu. Abin da ya kamata kawai ka yi shi ne yanke shawarar waɗanda kake so ka fara gwadawa.
Kuna iya samun kyawawan dabarun abincin dare ga mai cin ganyayyaki. Akwai kyawawan abinci masu kyau waɗanda za'a zaɓa daga; har ma masu son nama suna iya zaɓar gwada waɗannan jita-jita lokaci-lokaci. Ko da mafi kyau, kamar yadda jita-jita da yawa sun hada da nama da sunadarai, abincin masara, guntun farin dankalin turawa dankalin turawa da dai sauransu. ba da taƙaitaccen taƙaitaccen abin da samfuran ke haɓaka.
Mixed berries (strawberries, shudawa da shudawa)
Gaskiya, duk wani cakuda fruita fruitan itace wanda zaku iya haɗawa cikin sauƙi yana da kyau. Wadannan 'ya'yan itace sune tushen tushen fiber da antioxidants. Don saukakawa, har ma zaka sayi manyan jakunkuna na 'ya'yan itacen daskararre ka debi abubuwan da ake bukata da safe kuma ya kamata su kasance a shirye su ci da yammacin rana.
Karas kyakkyawan tushe ne na zare da bitamin A. Sanya suttura akan ranch mai haske tabbas bashi da lafiya kamar cin karas, but only a small amount provides that extra boost to make it look "flavorful" ". Zan je wurin kiwon dabbobi ne saboda, a ganina, ranch-free-ranch yana da mummunan ɗanɗano … kawai kiyaye shi tare da 2 tablespoons ko lessasa.
Mixed berries (strawberries, shudawa da shudawa)
Gaskiya, duk wani cakuda fruita fruitan itace wanda zaku iya haɗawa cikin sauƙi yana da kyau. Wadannan 'ya'yan itace sune tushen tushen fiber da antioxidants. Don saukakawa, har ma zaka sayi manyan jakunkuna na 'ya'yan itacen daskararre ka debi abubuwan da ake bukata da safe kuma ya kamata su kasance a shirye su ci da yammacin rana.
Green barkono ne mai kyau crunchy abun ciye-ciye, samar da ingantaccen tushen fiber da kuma wasu daga cikin kayan abincin gonar suna ƙara dandano ba tare da tasiri mai tasiri ba. Kawai kiyaye miya / miya zuwa 2 tablespoons ko lessasa.
Kokwamba tana gamsar da ƙwanƙwasawa da kyakkyawan tushen bitamin. Gwada hummus tare da ɗan ƙarin zing, kamar dill hummus, don biyan buƙatun gishiri.
Cikakken abinci ne cikakke. Qwai kaza, waxanda mutane ke yawan ci, ana dauke da furotin da choline, waxanda suke da mahimmanci wajen samar da muhimman amino acid. Ya ƙunshi bitamin da yawa, kamar su bitamin A, B2, B6, B9 da B12, da ma'adanai kamar su calcium, phosphorus da potassium. Kwai gwaiduwa ya ƙunshi dukkan bitamin A, D da E. Lokacin da ake cin ƙwai danye, suna samarwa da jiki karfi da kuzari.
Hatsi irin su shinkafa, sha'ir, alkama da masara abinci ne da ake ci a ƙasashe da yawa. An sanya su a matsayin hatsi kuma sune mafi mahimmancin amfanin gona a duniya, tare da wadataccen furotin. Oats hatsi ne mai cike da furotin. Abincin Oat shine mafi kyawun sabis yayin karin kumallo saboda suna samar da isasshen makamashi na rana.
Gyada na da lafiya gabadaya idan tana danye. Yawancin kwayoyi sune tushen tushen bitamin B2, E kuma ya ƙunshi alamun ma'adanai kamar magnesium, phosphorus, jan ƙarfe da potassium. Raw kwayoyi sun fi wadataccen furotin, folic acid da fiber. Gyada, idan ba a dafa ba, suna dauke da mafi koshin lafiya, tare da yawan antioxidants sau biyu kamar sauran na goro.
'Ya'yan itãcen marmari suna da daraja ƙwarai ga' yan adam saboda su ne tushen ruwa da kuma zaruruwa masu kyau. Hakanan asalin halitta ne na bitamin C. Yawancin 'ya'yan itatuwa ma suna da wadataccen furotin, ciki har da ayaba, apples, kankana, mangoro, peaches, lemu, cherries, jackfruit da zaituni. Don wadatar da jikin ku da furotin, zaka iya hada wadannan 'ya'yan itacen a cikin abincinka. Cinye wasu daga waɗannan 'ya'yan itacen don ciye-ciye zai kuma ba ku ƙoshin lafiya mai gina jiki.
Kayan kayan lambu gabaɗaya sunada furotin, ƙananan mai da ƙananan kalori. Suna kuma dauke da bitamin C, lutein, carotenoids, folic acid da bitamin K. Suna da arziki a cikin alli, ƙarfe da zaren abincin. Babban kayan lambu mai dauke da furotin sun hada da alayyahu, broccoli, Kale da latas.
Kukis zasu taimaka don gamsar da wannan sha'awar carbohydrates. Kukis masu hatsi duka sun ƙunshi fiber da antioxidants. Baya ga amfanin bitamin da sunadarai a cikin kayayyakin kiwo, cuku zai sa ka wadatu na tsawon lokaci kuma ya hana ka cin abinci sau da yawa.
Edamame kyakkyawan tushe ne na zare da furotin. Ya kamata ku same su a kan daskararren abinci na babban kanti. Narkar da bawon bawon sandwich cike da cin su. Don ɗan ɗan ɗanɗano, kara gishirin teku kadan sai a girgiza shi a cikin buhun.
Yana da cikakkiyar haɗuwa da zaƙi da kintsattse / gishiri. Almonds na dauke da mai, amma kitsonta mai kyau. Raisins shine kyakkyawan tushen fiber. Gwada ƙara ɗan gishirin teku kawai don ƙara ɗan ɗanɗano ɗanɗano ga almond.
I mana, wannan abun ciye-ciye yana da illoli da yawa (mai, cholesterol, sodium), amma yawan yayi kadan kuma sunadaran zasu gamsar dakai tsawon lokaci dan gujewa sha'awar ta gaba. Yana da lafiyayyen abun ciye-ciye idan aka kwatanta da jakar Doritos.
Tuffa shine kyakkyawan tushen fiber da bitamin C. Yi kokarin kiyaye fatar apple saboda tana dauke da sinadarin bitamin C mai yawa. Man gyada na da sunadarai da yawa da ke sa shi ya daɗe. Kawai kada ku wuce 1-2 tablespoons.
Thrive Market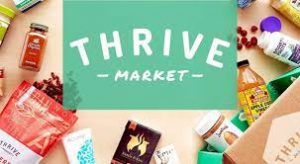 Thrive Market is an American e-commerce membership-based retailer offering natural and organic food products. It was founded by Nick Green, Gunnar Lovelace, Kate Mulling, and Sasha Siddhartha. According to their website,
It majors basically on 5 all natural, plant-based, non-GMO, gluten-free and nutritional health enhancing products all individually wrapped making them very portable and very easy to take. With all these, there's no need to mix, measure, or set reminders to take them.
Simply wake up, take 2 of the capsules and 20-40 minutes later drink the Lifestyle Mix shake and apply the DFT.
Clean Beauty, Non-Toxic Home Organic Pantry Staples
Below are few features processed by thrive market
Logging in on Thrive Market app, it's easy to use, fast and easy to use. it's easy to add things to cart as soon as you see them running out.
For bunƙasa kasuwa, you pay $60 annual membership fee, and sign up. Although you can most likely find many of the same products at other online retailers and at local grocery store. But the thrilling part is, for every paid membership they offer a free membership to a low income veteran, public school teacher, or family.
Here's another bonus: If you spend more than $ 49, shipping is always FREE.
Talking about their user interface and payment process, all are very easy to navigate, they carry a lot of food and non-perishable items that we use regularly, and the packing and shipping are impressive. They use sturdy materials and do an amazing job packing the glass separately from everything else and plastic bags for anything that might leak.