Pele re bapisa lik'hamphani tsena tse tharo tse nang le mabitso a tšoanang a molumo, a re ke re hlahlobeng tlhaloso e khutšoanyane ea seo ba se etsang.


Thrive level ke lethathamo la lihlahisoa tse entsoeng ke Le-Vel. Boemo ba THRIVE ke motsoako oa THRIVE Premium Lifestyle Capsules, THHRIVE Ultra Micronized Lifestyle Shake Mix, le Premium Lifestyle DFT (Derma Fusion Technology). Ba ithorisa ka foromo ea pele ea naturopathic le synergistic ea Vitamin, Liminerale, Metsoako ea Semela, Li-anti-oxidants, Li-enzyme, Likokoana-hloko tsa Pro-Biotic, le Amino Acids. Ba fana ka phihlelo e tobileng ea banna & Basali.
Li-capsules tsa Thrive Premium Lifestyle li etselitsoe banna le basali.
Li-capsules tsa Premium Lifestyle li etselitsoe ho nkoa hang ha u tsoha ka mpeng e se nang letho.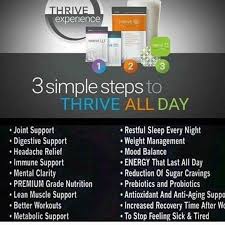 Li-capsules tse atlehang ke mokhoa oa tlhaho oa tlhaho oa livithamini, lirafshoa, lihlahisoa tsa litlama, li-antioxidants, li-enzyme, li-probiotics le li-amino acid 'me ke eona feela foromo ea pele ea boleng bo holimo e kileng ea etsoa.
Ho laola boima ba 'mele
Ts'ebetso ea kelello
Tšehetso e kopanetsoeng
Tšehetso ea ho ruruha
Anti-botsofali le antioxidant motsoako
Tšehetso ea mesifa e fokolang
Tšehetso ea tšilo ea lijo le ho itšireletsa mafung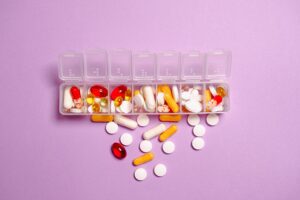 THRIVE Premium Lifestyle DFT Ke tsoelopele ea theknoloji e shebaneng le bophelo bo botle, bophelo bo botle le taolo ea boima ba 'mele' me e lokela ho sebelisoa hang ka mor'a ho noa Thrive Shake.
Foromo ea patch ea Thrive level ea DFT e eketsa sekhahla sa metabolism, ho khothaletsa bohloeki, taolo ya boima bo botle, ntle le ho kenya letsoho ho senyeha ha mesifa kapa ho senyeha joaloka lihlahisoa tse ngata tsa ho theola boima ba 'mele tse fumanehang.
THRIVE Premium DFT ke leqhoa holim'a kuku. Using the DFT patch with THRIVE level Premium Lifestyle Capsule and THRIVE Premium Lifestyle Shake Mix completes the THRIVE level 8 week experience. You will get ultra-premium, unmatched results in nutrition, weight management and fitness.
Ho laola boima ba 'mele

Mental clarity

Appetite control

Derma Fusion Technology

Metabolic support
Thrive level Premium Lifestyle Shake Mix is ​​designed to complement the Premium
Lifestyle capsules and should be taken 20 ho 40 minutes after taking the capsules.
Ultra-micronized

Formula rich in nutrient minerals

Blend of probiotics and enzymes

Blend of antioxidants and extracts

Tšehetso ea mesifa e fokolang

Weight control or fitness

Gluten free
Holim'a moo, customers also take capsules and drink special Thrive nutritional shakes. And because health (and weight loss in particular) involves more than what you put into your body, Thrive Experience also incorporates tailored eight-week fitness plans.
Back to the patch, capsules and shakes, specifically, what exactly do you put into your body when you embark on the Thrive experience?
Taking a closer look at the ingredients reveals that these products are basically made up of vitamins, amino acids, li-enzyme, and probiotics (all that the body needs, but many diets lack), as well as the product of weight loss.
Of natural Forslean origin and a good amount of coffee bean and green tea MDFVFD
That is just about everything. You won't find any weird chemicals or barely legal drugs hidden in Thrive products. What you will find is a who's who of useful nutrients. And when combined with the aforementioned fitness plan, it lends some credibility to the weight loss and wellness claims attached to the Thrive brand.
Thrive life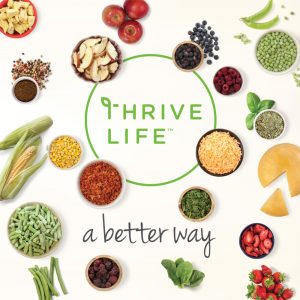 Thrive life (Not to be confused with Thrive Market) is a food company that sells freeze-dried groceries through tiered marketing.
Without a doubt, the question people often ask is "do you have any organic products?" And the answer is yes. Some products are certified organic, but it's a little more complicated than that.
See that getting a certified organic farm is a long and expensive process. You can grow your fruits and vegetables organically throughout the day, but because the USDA has the organic label, you can't make them all organic unless you go through this long and expensive process.
So the next time you buy organic veg at the grocery store and start praising yourself for paying "the real price of food," remember that you are actually paying the real price of the bureaucracy. Thrive life is on site where you get both natural and organic products.
Thrive life Ingredients reviews
I have done few researches on thrive life products and I have, as well, written a few articles on it. for this period of time, I have become a huge fan of Thrive's single-ingredient products because here's the thing: they really are an ingredient. Chicken may contain chicken. Strawberries contain strawberries. Kale.
They are frozen, dried and thrown into a box with an oxygen absorber. No need for preservatives.
Let's take a brief look at Thrive products
There are a lot of things that come in snack bags for convenience, but there are three things that only come in snack bags. These are fries of beets, lihoete le spinach. Haeba u thatafalloa ke ho etsa hore bana ba hao ba je li-beet kapa spinach, ena ke karabo eo esale u e batla!
Li-beetroot li latsoeha joalo ka motsoako oa liperekisi le liapole, mme ke sona hantle seo pina e leng sona: perekisi puree concentrate, li-appleauce concentrate, concentrate lero la cranberry, lero concentrate beetroot, cranberi.
Lijo tse bobebe tsa litholoana tsa spinach li na le liapole, dilamunu, libanana, le spinach, ha lihoete tse bobebe li na le liperekisi, fragole, lero la apole, lero la rantipole, le lero la rantipole le letšo.
Mona ke moo ke tenoang ke bolutu le ho se ratoe ke baratuoa ba ka ba Thrive Life. Ha ke motho ea ratang ho loma ka yogurt.
Tsoekere e tla pele, pele ho yogurt. Joale, ka mor'a yogurt, hangata ho na le lero la litholoana tse teteaneng (e thehiloeng ho tatso), tapioca starch, tatso (ke eng?) le riboflavin.
Ho bapisa lik'hamphani tse tharo tsa Thrive
Bophelo bo Botle (ho ThriveFreeze.com re rekisa lihlahisoa tse omisitsoeng tsa Thrive Life Freeze) rekisa feela lihlahisoa tse entsoeng esale pele, eketsa metsi feela. Mefuta ena ea lihlahisoa e na le sebaka sa eona. U li isa maemong a tšohanyetso ka linako tse ling ha u sa khone ho pheha. Li boetse li monate ho ba le nakong ea motšehare ha u e-na le kemiso e phathahaneng. Hape, ha o so hlophisehe mme o hloka feela dijo tse potlakileng.
Bophelo bo Botle, maraka a atlehang, Honeyville, le Lipolasi tsa Augason li na le lihlahisoa tse fumanehang e le metsoako ka bomong ka har'a mabokose a arohaneng. This means that they are easy to use and run in your own old, usual recipes. This allows you to "eat what you store and store what you eat". Thrive life only offers a few "just add water" meals, and thrive level probably offers the most (but they also have a lot of single-ingredient foods).
Thrive offers most single ingredient cans that contain absolutely no preservatives / additives. This means that a can of green beans is just that: 100% canned, frozen or never cooked green beans. Thrive market and thrive level also have many of these products, although Thrive has most of them. All three companies have individual ingredient boxes with additives or preservatives, although thrive has the least. Be sure to read the labels, if this is important to you.
Thrive life offers a few more things that make using your food easier:
A monthly cooking show with a professional chef

(

Chef Todd

),

H

A recipe site featuring Chef Todd's recipes as well as numerous consultants and customers revenue

The Thrive Guide

:

a book with tips on how to use most of their products

.
I don't know if thrive market and thrive level offer this type of support for learning how to use their products. When one knows how to use the product, the turnover is much easier and the waste is much less.
No matter where you choose to buy your food, if you want to make the rotation easier, Thrive Life has some fantastic food rotation systems – some for your pantry and others that are stand-alone.
Thrive Food packaging comparison
Most food storage comes in 10 tin cans (1 gallon cans), 5 ho 6 gallon pails, or in bulk (you have to pack it yourself). Sometimes wrapping the food yourself can be the cheapest option. This make these foods vary in quality.
Thrive cans are double coated to prevent rusting on the outside or a "tinplate" taste on the inside. The last time I checked, Thrive Food uses thickest, highest quality cans of any company. Their cubes also come with a gamma cap which is amazing.
Atleha dihlahiswa bophelo
Eating well is something more people are trying to do today. hobane feela u batla ho ja bophelo bo botle lijo ha ho bolele hore ho ba le nako e eketsehileng. U iphumana u batla lijo tsa mantsiboea mehopolo, e tla akarelletsa diresepe o potlakang hore di kamehla bophelo bo botle. It is easy to find dishes that you will want to make repeatedly.
No matter what types of food you like to eat, you can find meal ideas that will suit your needs. Everything is available, from quick foods to get food on the table to healthy fruits, snacks etc. All you need to do is decide which ones you want to try first.
You can even find great dinner ideas for a vegetarian. There are so many good healthy foods to choose from; even meat lovers can choose to try these dishes from time to time. Even better, as many dishes include meats and proteins, corn meals, instant white rice potato chunks etc. giving a brief summary of what thrive products entail.
Mixed berries

(fragole,

blueberries and raspberries

)
Really, any fruit mixture that you can mix easily is excellent. These berries are good sources of fiber and antioxidants. For convenience, you can even buy large bags of frozen fruit and pick up the required portions in the morning and they should be ready to eat in the early afternoon.
Carrots are a good source of fiber and vitamin A. The dressing on the light ranch is certainly not as healthy as eating carrots, but only a small amount provides that extra boost to make it look "flavorful" ". I'm going to the light ranch because, in my opinion, the fat-free ranch has a terrible taste … just keep it with 2 tablespoons or less.
Mixed berries

(fragole,

blueberries and raspberries

)
Really, any fruit mixture that you can mix easily is excellent. These berries are good sources of fiber and antioxidants. For convenience, you can even buy large bags of frozen fruit and pick up the required portions in the morning and they should be ready to eat in the early afternoon.
Green pepper is a good crunchy snack, providing a good source of fiber and some of the farmhouse sauce adds flavor without much negative impact. Just keep the sauce / sauce to 2 tablespoons or less.
The cucumber satisfies the crunchy urge and a good source of vitamins. Try a hummus with a little extra zing, like dill hummus, to satisfy the salty craving.
It is nature's perfect food. Chicken eggs, which are commonly eaten by humans, are loaded with protein and choline, which are important in the production of essential amino acids. It contains several vitamins, such as vitamins A, B2, B6, B9 and B12, and minerals such as calcium, phosphorus and potassium. Egg yolk contains all vitamins A, D and E. When eggs are eaten raw, they provide the body with strength and energy.
Grains such as rice, barley, wheat and corn are staple foods in many countries. They are classified as cereals and are the most important crop in the world, with very rich amounts of protein. Oats are a cereal very rich in protein. Oat meals are best served during breakfast as they provide enough energy for the day.
Walnuts are generally healthy when raw. Many nuts are a good source of vitamin B2, E and contain traces of minerals like magnesium, phosphorus, copper and potassium. Raw nuts are mainly rich in protein, folic acid and fiber. Walnuts, if not cooked, are considered the healthiest, with twice as many antioxidants as other nuts.
Fruits are very precious for humans because they are a source of water and good fibers. It is also a natural source of vitamin C. Most fruits are also rich in protein, including bananas, apples, melons, mangoes, peaches, dilamunu, cherries, jackfruit and olives. To enrich your body with protein, you can include these fruits in your diet. Chewing some of these fruits for snacks will also give you a healthy protein boost.
Leafy vegetables are generally high in protein, low in fat and low in calories. They also contain vitamin C, lutein, carotenoids, folic acid and vitamin K. They are rich in calcium, iron and dietary fiber. High protein leafy vegetables include spinach, broccoli, kale and lettuce.
Cookies will help satisfy this craving for carbohydrates. Whole grain cookies contain fiber and antioxidants. In addition to the benefits of vitamins and proteins in dairy products, cheese will keep you satisfied for longer and prevent you from eating more often.
Edamame is a good source of fiber and protein. You should find them on the frozen food island of the supermarket. Thaw and peel a full sandwich bag and eat them as a snack. For a little more flavor, add a pinch of sea salt and shake it in the bag.
It's the perfect blend of sweet and crisp / salty. Almonds contain fat, but its good fat. Raisins are a good source of fiber. Try adding just a pinch of sea salt to add a little extra flavor to the almonds.
Of course, this snack has many disadvantages (fat, cholesterol, sodium), but the quantities are low and the proteins will satisfy you longer to avoid future cravings. It's a healthy snack compared to a bag of Doritos.
Apples are a good source of fiber and vitamin C. Try to keep the skin of the apple because it contains a lot of vitamin C. Peanut butter has a lot of proteins that keep it longer. Just keep no more than 1-2 tablespoons.
Thrive Market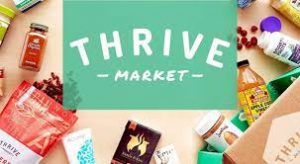 Thrive Market is an American e-commerce membership-based retailer offering natural and organic food products. It was founded by Nick Green, Gunnar Lovelace, Kate Mulling, and Sasha Siddhartha. According to their website,
It majors basically on 5 all natural, plant-based, non-GMO, gluten-free and nutritional health enhancing products all individually wrapped making them very portable and very easy to take. With all these, there's no need to mix, measure, or set reminders to take them.
Simply wake up, take 2 of the capsules and 20-40 minutes later drink the Lifestyle Mix shake and apply the DFT.
Clean Beauty, Non-Toxic Home Organic Pantry Staples
Below are few features processed by thrive market
Logging in on Thrive Market app, it's easy to use, fast and easy to use. it's easy to add things to cart as soon as you see them running out.
For maraka a atlehang, you pay $60 annual membership fee, and sign up. Although you can most likely find many of the same products at other online retailers and at local grocery store. But the thrilling part is, for every paid membership they offer a free membership to a low income veteran, public school teacher, or family.
Here's another bonus: If you spend more than $ 49, shipping is always FREE.
Talking about their user interface and payment process, all are very easy to navigate, they carry a lot of food and non-perishable items that we use regularly, and the packing and shipping are impressive. They use sturdy materials and do an amazing job packing the glass separately from everything else and plastic bags for anything that might leak.