Uspešno življenje, Thrive Market, and Thrive Le-Vel – Unraveling the differences between these thriving brands. Before we compare these three companies with similar sounding names, let us look at a brief meaning of what they do.

Thrive level is a line of products manufactured by Le-Vel. The THRIVE level is a combination of THRIVE Premium Lifestyle Capsules, THRIVE Ultra Micronized Lifestyle Shake Mix, and Premium Lifestyle DFT (Derma Fusion Technology). They boast of premium naturopathic and synergistic formula of Vitamins, Minerals, Plant Extracts, Anti-Oxidants, Enzymes, Pro-Biotics, and Amino Acids. They provide an experience that is gender specific for Men & Women.
Thrive Premium Lifestyle capsules are designed for men and women

.

Premium Lifestyle capsules are designed to be taken as soon as you wake up on an empty stomach

.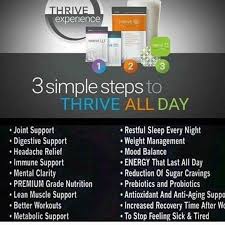 Thrive capsules are an all-natural naturopathic formula of vitamins, minerals, herbal extracts, antioxidants, enzymes, probiotics and amino acids and is the first and only ultra-premium formula ever developed.
Weight control

Cognitive performance

Joint support

Inflammation support

Anti-aging and antioxidant blend

Lean muscle support

Digestive and immune support

THRIVE Premium Lifestyle DFT Is a wearable patch and a technological advancement focused on health, wellness and weight management and should be applied immediately after drinking the Thrive Shake.
The Thrive level DFT patch formula increases metabolic rate, promoting clean, healthy weight management, without contributing to muscle breakdown or deterioration like most weight loss products available.
THRIVE Premium DFT is the icing on the cake. Using the DFT patch with THRIVE level Premium Lifestyle Capsule and THRIVE Premium Lifestyle Shake Mix completes the THRIVE level 8 week experience. You will get ultra-premium, unmatched results in nutrition, weight management and fitness.
Weight control

Mental clarity

Appetite control

Derma Fusion Technology

Metabolic support
Thrive level Premium Lifestyle Shake Mix is designed to complement the Premium
Lifestyle capsules and should be taken 20 do 40 minutes after taking the capsules.
Ultra-micronized

Formula rich in nutrient minerals

Blend of probiotics and enzymes

Blend of antioxidants and extracts

Lean muscle support

Weight control or fitness

Gluten free
Poleg tega, customers also take capsules and drink special Thrive nutritional shakes. And because health (and weight loss in particular) involves more than what you put into your body, Thrive Experience also incorporates tailored eight-week fitness plans.
Back to the patch, capsules and shakes, specifically, what exactly do you put into your body when you embark on the Thrive experience?
Taking a closer look at the ingredients reveals that these products are basically made up of vitamins, amino acids, enzymes, and probiotics (all that the body needs, but many diets lack), as well as the product of weight loss.
Of natural Forslean origin and a good amount of coffee bean and green tea MDFVFD
That is just about everything. You won't find any weird chemicals or barely legal drugs hidden in Thrive products. What you will find is a who's who of useful nutrients. And when combined with the aforementioned fitness plan, it lends some credibility to the weight loss and wellness claims attached to the Thrive brand.
MOST ADVANCEDCBD SKINCARE SYSTEM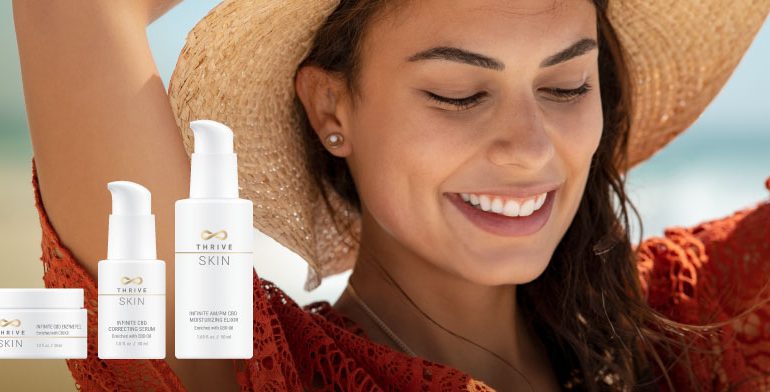 Thrive life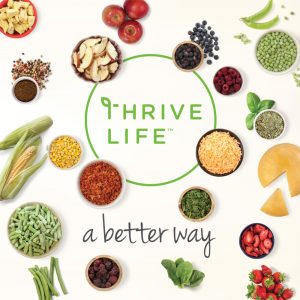 Thrive life (Not to be confused with Thrive Market) is a food company that sells freeze-dried groceries through tiered marketing.
Without a doubt, the question people often ask is "do you have any organic products?" And the answer is yes. Some products are certified organic, but it's a little more complicated than that.
See that getting a certified organic farm is a long and expensive process. You can grow your fruits and vegetables organically throughout the day, but because the USDA has the organic label, you can't make them all organic unless you go through this long and expensive process.
So the next time you buy organic veg at the grocery store and start praising yourself for paying "the real price of food," remember that you are actually paying the real price of the bureaucracy. Thrive life is on site where you get both natural and organic products.
Thrive life Ingredients reviews
I have done few researches on thrive life products and I have, as well, written a few articles on it. for this period of time, I have become a huge fan of Thrive's single-ingredient products because here's the thing: they really are an ingredient. Chicken may contain chicken. Strawberries contain strawberries. Kale.
They are frozen, dried and thrown into a box with an oxygen absorber. No need for preservatives.
Let's take a brief look at Thrive products
There are a lot of things that come in snack bags for convenience, but there are three things that only come in snack bags. These are fries of beets, carrots and spinach. If you're having a hard time getting your kids to eat beets or spinach, this is the answer you've been looking for!
Beetroot fries taste like a mixture of peaches and apples, and that's exactly what the anthem is: peach puree concentrate, applesauce concentrate, cranberry juice concentrate, juice concentrate beetroot, cranberry.
Spinach fruit snacks contain apples, pomaranče, bananas, and spinach, while carrot snacks contain peaches, jagode, apple juice, carrot juice, and black carrot juice.
This is where I get a little bored and unpopular with my fellow Thrive Life enthusiasts. I'm not a big fan of yogurt bites.
Sugar comes first, before yogurt. Then, after yogurt, there is usually concentrated fruit juice (based on flavor), tapioca starch, flavor (what is it?) and riboflavin.
Comparing three Thrive companies
Uspešno življenje (at ThriveFreeze.com we sell Thrive Life Freeze Dried products) only sell pre-made products, just add water. These types of products have their place. You take them for emergencies sometimes when you can't cook. They are also nice to have during daytime when you have a busy schedule. Tudi, when you are not organized yet and just need a quick meal.
Uspešno življenje, uspešen trg, Honeyville, and Augason Farms have products available as individual ingredients in separate boxes. This means that they are easy to use and run in your own old, usual recipes. This allows you to "eat what you store and store what you eat". Thrive life only offers a few "just add water" obroki, and thrive level probably offers the most (but they also have a lot of single-ingredient foods).
Thrive offers most single ingredient cans that contain absolutely no preservatives / additives. This means that a can of green beans is just that: 100% canned, frozen or never cooked green beans. Thrive market and thrive level also have many of these products, although Thrive has most of them. All three companies have individual ingredient boxes with additives or preservatives, although thrive has the least. Be sure to read the labels, if this is important to you.
Thrive life offers a few more things that make using your food easier:
A monthly cooking show with a professional chef

(

Chef Todd

),

H

A recipe site featuring Chef Todd's recipes as well as numerous consultants and customers revenue

The Thrive Guide

:

a book with tips on how to use most of their products

.
I don't know if thrive market and thrive level offer this type of support for learning how to use their products. When one knows how to use the product, the turnover is much easier and the waste is much less.
No matter where you choose to buy your food, if you want to make the rotation easier, Thrive Life has some fantastic food rotation systems – some for your pantry and others that are stand-alone.
Thrive Food packaging comparison
Most food storage comes in 10 tin cans (1 gallon cans), 5 do 6 gallon pails, or in bulk (you have to pack it yourself). Sometimes wrapping the food yourself can be the cheapest option. This make these foods vary in quality.
Thrive cans are double coated to prevent rusting on the outside or a "tinplate" taste on the inside. The last time I checked, Thrive Food uses thickest, highest quality cans of any company. Their cubes also come with a gamma cap which is amazing.
Uspevajo življenjske izdelke
Dobro jesti je nekaj, kar si danes prizadeva vse več ljudi. Samo zato, ker si želijo, da bi jedli zdravo hrano, ne pomeni, da imate več časa. Se znajdete iščejo večerjo ideje, ki vključujejo hitre recepte, ki so vedno zdrava. Preprosto je najti jedi, ki jih boste želeli pripravljati večkrat.
Ne glede na to, kakšne vrste hrane radi jeste, lahko najdete ideje za obroke, ki bodo ustrezali vašim potrebam. Vse je na voljo, od hitre hrane, da dobite hrano na mizi, do zdravega sadja, prigrizki itd. Vse kar morate storiti je, da se odločite, katere želite najprej preizkusiti.
Najdete lahko celo odlične ideje za večerjo za vegetarijance. Izbirate lahko med toliko dobrih zdravih živil; tudi ljubitelji mesa se lahko občasno odločijo, da te jedi poskusijo. Še bolje, veliko jedi vključuje meso in beljakovine, koruzni obroki, instant beli riževi krompirjevi koščki itd. s kratkim povzetkom, kaj vključujejo izdelki thrive.
Mešano jagodičevje (jagode, borovnice in maline)
res, vsaka sadna mešanica, ki jo zlahka zmešaš, je odlična. Te jagode so dober vir vlaknin in antioksidantov. Za udobje, lahko celo kupite velike vreče zamrznjenega sadja in zjutraj poberete zahtevane porcije, ki bi morale biti pripravljene za uživanje zgodaj popoldne.
Korenje je dober vir vlaknin in vitamina A. Preliv na lahkem ranču zagotovo ni tako zdrav kot uživanje korenja, vendar le majhna količina zagotavlja dodatno spodbudo, da je videti »okusno«." ". Grem na lahki ranč, ker, po mojem mnenju, ranč brez maščobe ima grozen okus … samo imej ga s seboj 2 žlice ali manj.
Mešano jagodičevje (jagode, borovnice in maline)
res, vsaka sadna mešanica, ki jo zlahka zmešaš, je odlična. Te jagode so dober vir vlaknin in antioksidantov. Za udobje, lahko celo kupite velike vreče zamrznjenega sadja in zjutraj poberete zahtevane porcije, ki bi morale biti pripravljene za uživanje zgodaj popoldne.
Zelena paprika je dober hrustljav prigrizek, zagotavlja dober vir vlaknin, nekaj kmečke omake pa doda okus brez večjih negativnih učinkov. Samo obdrži omako / omako za 2 žlice ali manj.
Kumara poteši hrustljavo željo in je dober vir vitaminov. Poskusite humus z malo dodatnega žganja, kot humus iz kopra, za potešitev želje po slanem.
Je popolna hrana narave. Piščančja jajca, ki jih ljudje običajno uživamo, so obremenjeni z beljakovinami in holinom, ki so pomembne pri nastajanju esencialnih aminokislin. Vsebuje več vitaminov, kot so vitamini A, B2, B6, B9 in B12, in minerali, kot je kalcij, fosforja in kalija. Jajčni rumenjak vsebuje vse vitamine A, D in E. Ko jajca uživamo surova, telesu dajejo moč in energijo.
Zrna, kot je riž, ječmen, pšenica in koruza sta osnovni živili v mnogih državah. Uvrščamo jih med žita in so najpomembnejši pridelek na svetu, z zelo bogato vsebnostjo beljakovin. Oves je žito, ki je zelo bogato z beljakovinami. Ovsene obroke je najbolje postreči med zajtrkom, saj zagotavljajo dovolj energije za ves dan.
Orehi so na splošno zdravi, če so surovi. Številni oreščki so dober vir vitamina B2, E in vsebujejo sledi mineralov, kot je magnezij, fosfor, baker in kalij. Surovi oreščki so predvsem bogati z beljakovinami, folne kisline in vlaknin. orehi, če ni kuhan, veljajo za najbolj zdrave, z dvakrat več antioksidantov kot drugi oreščki.
Sadje je za človeka zelo dragoceno, saj je vir vode in dobrih vlaknin. Je tudi naravni vir vitamina C. Večina sadja je tudi bogata z beljakovinami, vključno z bananami, jabolka, melone, mango, breskve, pomaranče, češnje, kruhovec in olive. Za obogatitev telesa z beljakovinami, to sadje lahko vključite v svojo prehrano. Žvečenje nekaj teh sadežev za prigrizke vam bo dalo tudi zdravo količino beljakovin.
Listnata zelenjava ima na splošno veliko beljakovin, malo maščob in malo kalorij. Vsebujejo tudi vitamin C, lutein, karotenoidi, folna kislina in vitamin K. So bogati s kalcijem, železo in prehranske vlaknine. Visoko beljakovinska listnata zelenjava vključuje špinačo, brokoli, ohrovt in zelena solata.
Piškoti bodo pomagali zadovoljiti to željo po ogljikovih hidratih. Polnozrnati piškoti vsebujejo vlaknine in antioksidante. Poleg koristi vitaminov in beljakovin v mlečnih izdelkih, sir vas bo dlje nasitil in preprečil, da bi jedli pogosteje.
Edamame je dober vir vlaknin in beljakovin. Najti bi jih morali na otoku zamrznjene hrane v supermarketu. Odmrznite in olupite polno vrečko za sendviče ter jih pojejte kot prigrizek. Za malo več okusa, dodajte ščepec morske soli in stresite v vrečko.
Je popolna mešanica sladkega in hrustljavega / slan. Mandlji vsebujejo maščobe, vendar je dobra maščoba. Rozine so dober vir vlaknin. Poskusite dodati le ščepec morske soli, da dodate mandljem malo več okusa.
Seveda, ta prigrizek ima veliko slabosti (maščoba, holesterol, natrij), vendar so količine majhne in beljakovine vas bodo zadovoljile dlje časa, da se izognete prihodnjim željam. To je zdrav prigrizek v primerjavi z vrečko Doritos.
Jabolka so dober vir vlaknin in vitamina C. Poskusite ohraniti lupino jabolka, saj vsebuje veliko vitamina C. Arašidovo maslo ima veliko beljakovin, ki ga ohranijo dlje. Samo ne hranite več kot 1-2 žlice.
Thrive Market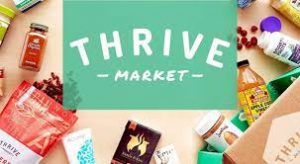 Thrive Market is an American e-commerce membership-based retailer offering natural and organic food products. It was founded by Nick Green, Gunnar Lovelace, Kate Mulling, and Sasha Siddhartha. According to their website,
It majors basically on 5 all natural, plant-based, non-GMO, gluten-free and nutritional health enhancing products all individually wrapped making them very portable and very easy to take. With all these, there's no need to mix, measure, or set reminders to take them.
Simply wake up, take 2 of the capsules and 20-40 minutes later drink the Lifestyle Mix shake and apply the DFT.
Clean Beauty, Non-Toxic Home Organic Pantry Staples
Below are few features processed by thrive market
Logging in on Thrive Market app, it's easy to use, fast and easy to use. it's easy to add things to cart as soon as you see them running out.
For uspešen trg, you pay $60 annual membership fee, and sign up. Although you can most likely find many of the same products at other online retailers and at local grocery store. But the thrilling part is, for every paid membership they offer a free membership to a low income veteran, public school teacher, or family.
Here's another bonus: If you spend more than $ 49, shipping is always FREE.
Talking about their user interface and payment process, all are very easy to navigate, they carry a lot of food and non-perishable items that we use regularly, and the packing and shipping are impressive. They use sturdy materials and do an amazing job packing the glass separately from everything else and plastic bags for anything that might leak.