Kabla hatujalinganisha makampuni haya matatu yenye majina yanayofanana, tuangalie maana fupi ya wanachofanya.


Thrive level is a line of products manufactured by Le-Vel. Kiwango cha THRIVE ni mchanganyiko wa Vibonge vya Mtindo wa Maisha wa THRIVE, THRIVE Ultra Micronized Lifestyle Shake Mix, na Premium Lifestyle DFT (Derma Fusion Technology). They boast of premium naturopathic and synergistic formula of Vitamins, Minerals, Plant Extracts, Anti-Oxidants, Enzymes, Pro-Biotics, and Amino Acids. They provide an experience that is gender specific for Men & Women.
Thrive Premium Lifestyle capsules are designed for men and women

.

Premium Lifestyle capsules are designed to be taken as soon as you wake up on an empty stomach

.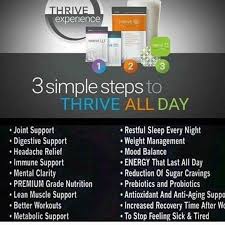 Thrive capsules are an all-natural naturopathic formula of vitamins, minerals, herbal extracts, antioxidants, enzymes, probiotics and amino acids and is the first and only ultra-premium formula ever developed.
Weight control

Cognitive performance

Joint support

Inflammation support

Anti-aging and antioxidant blend

Lean muscle support

Digestive and immune support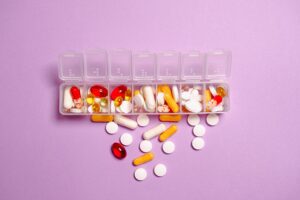 THRIVE Premium Lifestyle DFT Is a technological advancement focused on health, wellness and weight management and should be applied immediately after drinking the Thrive Shake.
The Thrive level DFT patch formula increases metabolic rate, promoting clean, healthy weight management, without contributing to muscle breakdown or deterioration like most weight loss products available.
THRIVE Premium DFT is the icing on the cake. Using the DFT patch with THRIVE level Premium Lifestyle Capsule and THRIVE Premium Lifestyle Shake Mix completes the THRIVE level 8 week experience. You will get ultra-premium, unmatched results in nutrition, weight management and fitness.
Weight control

Mental clarity

Appetite control

Derma Fusion Technology

Metabolic support
Thrive level Premium Lifestyle Shake Mix is ​​designed to complement the Premium
Lifestyle capsules and should be taken 20 kwa 40 minutes after taking the capsules.
Ultra-micronized

Formula rich in nutrient minerals

Blend of probiotics and enzymes

Blend of antioxidants and extracts

Lean muscle support

Weight control or fitness

Gluten free
Zaidi ya hayo, customers also take capsules and drink special Thrive nutritional shakes. And because health (and weight loss in particular) involves more than what you put into your body, Thrive Experience also incorporates tailored eight-week fitness plans.
Back to the patch, capsules and shakes, specifically, what exactly do you put into your body when you embark on the Thrive experience?
Taking a closer look at the ingredients reveals that these products are basically made up of vitamins, amino acids, enzymes, and probiotics (all that the body needs, but many diets lack), as well as the product of weight loss.
Of natural Forslean origin and a good amount of coffee bean and green tea MDFVFD
That is just about everything. You won't find any weird chemicals or barely legal drugs hidden in Thrive products. What you will find is a who's who of useful nutrients. And when combined with the aforementioned fitness plan, it lends some credibility to the weight loss and wellness claims attached to the Thrive brand.
Thrive life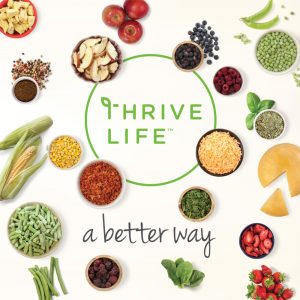 Thrive life (Not to be confused with Thrive Market) is a food company that sells freeze-dried groceries through tiered marketing.
Without a doubt, the question people often ask is "do you have any organic products?" And the answer is yes. Some products are certified organic, but it's a little more complicated than that.
See that getting a certified organic farm is a long and expensive process. You can grow your fruits and vegetables organically throughout the day, but because the USDA has the organic label, you can't make them all organic unless you go through this long and expensive process.
So the next time you buy organic veg at the grocery store and start praising yourself for paying "the real price of food," remember that you are actually paying the real price of the bureaucracy. Thrive life is on site where you get both natural and organic products.
Thrive life Ingredients reviews
I have done few researches on thrive life products and I have, as well, written a few articles on it. for this period of time, I have become a huge fan of Thrive's single-ingredient products because here's the thing: they really are an ingredient. Chicken may contain chicken. Strawberries contain strawberries. Kale.
They are frozen, dried and thrown into a box with an oxygen absorber. No need for preservatives.
Let's take a brief look at Thrive products
There are a lot of things that come in snack bags for convenience, but there are three things that only come in snack bags. These are fries of beets, carrots and spinach. If you're having a hard time getting your kids to eat beets or spinach, this is the answer you've been looking for!
Beetroot fries taste like a mixture of peaches and apples, and that's exactly what the anthem is: peach puree concentrate, applesauce concentrate, cranberry juice concentrate, juice concentrate beetroot, cranberry.
Spinach fruit snacks contain apples, machungwa, bananas, and spinach, while carrot snacks contain peaches, jordgubbar, apple juice, carrot juice, and black carrot juice.
This is where I get a little bored and unpopular with my fellow Thrive Life enthusiasts. I'm not a big fan of yogurt bites.
Sugar comes first, before yogurt. Then, after yogurt, there is usually concentrated fruit juice (based on flavor), tapioca starch, flavor (what is it?) and riboflavin.
Comparing three Thrive companies
Furahia Maisha (at ThriveFreeze.com we sell Thrive Life Freeze Dried products) only sell pre-made products, just add water. These types of products have their place. You take them for emergencies sometimes when you can't cook. They are also nice to have during daytime when you have a busy schedule. Also, when you are not organized yet and just need a quick meal.
Furahia Maisha, kustawi soko, Honeyville, and Augason Farms have products available as individual ingredients in separate boxes. This means that they are easy to use and run in your own old, usual recipes. This allows you to "eat what you store and store what you eat". Thrive life only offers a few "just add water" meals, and thrive level probably offers the most (but they also have a lot of single-ingredient foods).
Thrive offers most single ingredient cans that contain absolutely no preservatives / additives. This means that a can of green beans is just that: 100% canned, frozen or never cooked green beans. Thrive market and thrive level also have many of these products, although Thrive has most of them. All three companies have individual ingredient boxes with additives or preservatives, although thrive has the least. Be sure to read the labels, if this is important to you.
Thrive life offers a few more things that make using your food easier:
A monthly cooking show with a professional chef

(

Chef Todd

),

H

A recipe site featuring Chef Todd's recipes as well as numerous consultants and customers revenue

The Thrive Guide

:

a book with tips on how to use most of their products

.
I don't know if thrive market and thrive level offer this type of support for learning how to use their products. When one knows how to use the product, the turnover is much easier and the waste is much less.
No matter where you choose to buy your food, if you want to make the rotation easier, Thrive Life has some fantastic food rotation systems – some for your pantry and others that are stand-alone.
Thrive Food packaging comparison
Most food storage comes in 10 tin cans (1 gallon cans), 5 kwa 6 gallon pails, or in bulk (you have to pack it yourself). Sometimes wrapping the food yourself can be the cheapest option. This make these foods vary in quality.
Thrive cans are double coated to prevent rusting on the outside or a "tinplate" taste on the inside. The last time I checked, Thrive Food uses thickest, highest quality cans of any company. Their cubes also come with a gamma cap which is amazing.
Kustawi za maisha
Kula vizuri ni kitu ambacho watu zaidi wanajaribu kufanya leo. Kwa sababu tu wanataka kula na afya chakula haina maana kuwa na muda zaidi. Wewe mwenyewe kupata kuangalia kwa chakula cha jioni mawazo, ambayo ni pamoja na maelekezo ya haraka kwamba ni daima afya. Ni rahisi kupata sahani ambazo utataka kupika mara kwa mara.
Bila kujali aina gani ya chakula unapenda kula, unaweza kupata mawazo ya chakula ambayo yataendana na mahitaji yako. Kila kitu kinapatikana, kutoka kwa vyakula vya haraka kupata chakula kwenye meza hadi matunda yenye afya, vitafunio nk. Unachohitaji kufanya ni kuamua ni zipi ungependa kujaribu kwanza.
Unaweza hata kupata mawazo mazuri ya chakula cha jioni kwa mboga. Kuna vyakula vingi vyema vya afya vya kuchagua; hata wapenzi wa nyama wanaweza kuchagua kujaribu sahani hizi mara kwa mara. Bora zaidi, kama sahani nyingi ni pamoja na nyama na protini, milo ya mahindi, vipande vya viazi vya mchele mweupe papo hapo nk. kutoa muhtasari mfupi wa kile ambacho bidhaa zinazostawi hujumuisha.
Berries mchanganyiko (jordgubbar, blueberries na raspberries)
Kweli, mchanganyiko wowote wa matunda ambao unaweza kuchanganya kwa urahisi ni bora. Berries hizi ni vyanzo vyema vya nyuzi na antioxidants. Kwa urahisi, unaweza kununua hata mifuko mikubwa ya matunda yaliyogandishwa na kuchukua sehemu zinazohitajika asubuhi na zinapaswa kuwa tayari kuliwa asubuhi na mapema..
Karoti ni chanzo kizuri cha nyuzinyuzi na vitamini A. Uvaaji kwenye ranchi nyepesi hakika sio afya kama kula karoti, lakini kiasi kidogo tu hutoa nyongeza hiyo ya ziada kuifanya ionekane "ladha" ". Ninaenda kwenye ranchi nyepesi kwa sababu, kwa maoni yangu, ranchi isiyo na mafuta ina ladha ya kutisha … ibaki nayo tu 2 vijiko au chini.
Berries mchanganyiko (jordgubbar, blueberries na raspberries)
Kweli, mchanganyiko wowote wa matunda ambao unaweza kuchanganya kwa urahisi ni bora. Berries hizi ni vyanzo vyema vya nyuzi na antioxidants. Kwa urahisi, unaweza kununua hata mifuko mikubwa ya matunda yaliyogandishwa na kuchukua sehemu zinazohitajika asubuhi na zinapaswa kuwa tayari kuliwa asubuhi na mapema..
Pilipili ya kijani kibichi
Pilipili ya kijani ni vitafunio vyema vya crunchy, kutoa chanzo kizuri cha nyuzi na baadhi ya mchuzi wa shamba huongeza ladha bila athari mbaya. Weka tu mchuzi / mchuzi kwa 2 vijiko au chini.
Tango hutosheleza hamu ya crunchy na chanzo kizuri cha vitamini. Jaribu hummus na zing ya ziada kidogo, kama hummus ya bizari, ili kukidhi hamu ya chumvi.
Mchanganyiko wa yai iliyokatwa
Ni chakula kamili cha asili. Mayai ya kuku, ambayo ni kawaida kuliwa na binadamu, zimejaa protini na choline, ambayo ni muhimu katika utengenezaji wa asidi muhimu ya amino. Ina vitamini kadhaa, kama vile vitamini A, B2, B6, B9 na B12, na madini kama kalsiamu, fosforasi na potasiamu. Kiini cha yai kina vitamini A zote, D na E. Wakati mayai huliwa mabichi, wanaupa mwili nguvu na nishati.
Nafaka kama mchele, shayiri, ngano na mahindi ni chakula kikuu katika nchi nyingi. Zinaainishwa kama nafaka na ni zao muhimu zaidi ulimwenguni, na kiasi kikubwa cha protini. Oats ni nafaka yenye utajiri mwingi wa protini. Milo ya oat hutumiwa vyema wakati wa kifungua kinywa kwani hutoa nishati ya kutosha kwa siku.
Walnuts kwa ujumla huwa na afya zikiwa mbichi. Karanga nyingi ni chanzo kizuri cha vitamini B2, E na vyenye athari ya madini kama magnesiamu, fosforasi, shaba na potasiamu. Karanga mbichi zina protini nyingi, asidi ya folic na nyuzi. Walnuts, ikiwa haijapikwa, wanachukuliwa kuwa wenye afya zaidi, na antioxidants mara mbili kama karanga zingine.
Matunda ni ya thamani sana kwa wanadamu kwa sababu ni chanzo cha maji na nyuzi nzuri. Pia ni chanzo cha asili cha vitamini C. Matunda mengi pia yana protini nyingi, zikiwemo ndizi, tufaha, matikiti, maembe, persikor, machungwa, cherries, jackfruit na mizeituni. Ili kuimarisha mwili wako na protini, unaweza kuingiza matunda haya katika mlo wako. Kutafuna baadhi ya matunda haya kwa vitafunio pia kutakupa uboreshaji wa protini yenye afya.
Mboga za majani kwa ujumla zina protini nyingi, chini katika mafuta na chini katika kalori. Pia zina vitamini C, luteini, carotenoids, asidi ya folic na vitamini K. Wao ni matajiri katika kalsiamu, chuma na nyuzi za lishe. Mboga za majani zenye protini nyingi ni pamoja na mchicha, broccoli, kabichi na lettuce.
Vidakuzi vitasaidia kukidhi tamaa hii ya wanga. Vidakuzi vya nafaka nzima vina nyuzinyuzi na antioxidants. Mbali na faida za vitamini na protini katika bidhaa za maziwa, jibini itakuweka kuridhika kwa muda mrefu na kukuzuia kula mara nyingi zaidi.
Edamame ni chanzo kizuri cha nyuzi na protini. Unapaswa kuzipata kwenye kisiwa cha chakula kilichohifadhiwa kwenye duka kuu. Thibitisha na peel mfuko kamili wa sandwich na uile kama vitafunio. Kwa ladha kidogo zaidi, kuongeza chumvi bahari na kuitingisha katika mfuko.
Ni mchanganyiko kamili wa tamu na crisp / chumvi. Almond ina mafuta, lakini mafuta yake mazuri. Zabibu ni chanzo kizuri cha nyuzinyuzi. Jaribu kuongeza chumvi kidogo ya bahari ili kuongeza ladha ya mlozi.
Jibini la Monterey iliyokatwa
Bila shaka, snack hii ina hasara nyingi (mafuta, cholesterol, sodiamu), lakini kiasi ni kidogo na protini zitakutosheleza kwa muda mrefu ili kuepuka tamaa za baadaye. Ni vitafunio vyenye afya ikilinganishwa na begi la Doritos.
Vipande vya Apple vya Fuji
Tufaha ni chanzo kizuri cha nyuzinyuzi na vitamini C. Jaribu kuweka ngozi ya tufaha kwa sababu ina vitamini C nyingi. Siagi ya karanga ina protini nyingi ambazo huihifadhi kwa muda mrefu. Usiweke tu zaidi ya 1-2 vijiko.
Thrive Market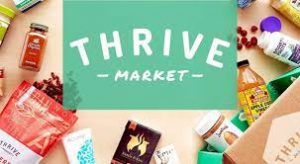 Thrive Market is an American e-commerce membership-based retailer offering natural and organic food products. It was founded by Nick Green, Gunnar Lovelace, Kate Mulling, and Sasha Siddhartha. According to their website,
It majors basically on 5 all natural, plant-based, non-GMO, gluten-free and nutritional health enhancing products all individually wrapped making them very portable and very easy to take. With all these, there's no need to mix, measure, or set reminders to take them.
Simply wake up, take 2 of the capsules and 20-40 minutes later drink the Lifestyle Mix shake and apply the DFT.
Clean Beauty, Non-Toxic Home Organic Pantry Staples
Below are few features processed by thrive market
Logging in on Thrive Market app, it's easy to use, fast and easy to use. it's easy to add things to cart as soon as you see them running out.
For kustawi soko, you pay $60 annual membership fee, and sign up. Although you can most likely find many of the same products at other online retailers and at local grocery store. But the thrilling part is, for every paid membership they offer a free membership to a low income veteran, public school teacher, or family.
Here's another bonus: If you spend more than $ 49, shipping is always FREE.
Talking about their user interface and payment process, all are very easy to navigate, they carry a lot of food and non-perishable items that we use regularly, and the packing and shipping are impressive. They use sturdy materials and do an amazing job packing the glass separately from everything else and plastic bags for anything that might leak.