Before we compare these three companies with similar sounding names, let us look at a brief meaning of what they do.


Thrive level is a line of products manufactured by Le-Vel. The THRIVE level is a combination of THRIVE Premium Lifestyle Capsules, THRIVE Ultra Micronized Lifestyle Shake Mix, and Premium Lifestyle DFT (Derma Fusion Technology). They boast of premium naturopathic and synergistic formula of Vitamins, Minerals, Plant Extracts, Anti-Oxidants, Enzymes, Pro-Biotics, and Amino Acids. They provide an experience that is gender specific for Men & Women.
Thrive Premium Lifestyle capsules are designed for men and women

.

Premium Lifestyle capsules are designed to be taken as soon as you wake up on an empty stomach

.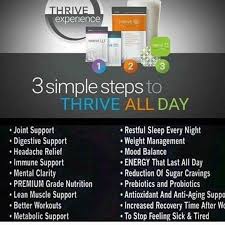 Thrive capsules are an all-natural naturopathic formula of vitamins, minerals, herbal extracts, antioxidants, enzymes, probiotics and amino acids and is the first and only ultra-premium formula ever developed.
Weight control

Cognitive performance

Joint support

Inflammation support

Anti-aging and antioxidant blend

Lean muscle support

Digestive and immune support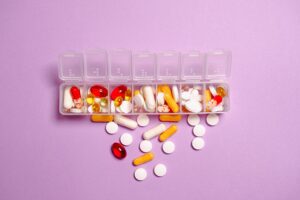 THRIVE Premium Lifestyle DFT Is a technological advancement focused on health, wellness and weight management and should be applied immediately after drinking the Thrive Shake.
The Thrive level DFT patch formula increases metabolic rate, promoting clean, healthy weight management, without contributing to muscle breakdown or deterioration like most weight loss products available.
THRIVE Premium DFT is the icing on the cake. Using the DFT patch with THRIVE level Premium Lifestyle Capsule and THRIVE Premium Lifestyle Shake Mix completes the THRIVE level 8 week experience. You will get ultra-premium, unmatched results in nutrition, weight management and fitness.
Weight control

Mental clarity

Appetite control

Derma Fusion Technology

Metabolic support
Thrive level Premium Lifestyle Shake Mix is ​​designed to complement the Premium
Lifestyle capsules and should be taken 20 til 40 minutes after taking the capsules.
Ultra-micronized

Formula rich in nutrient minerals

Blend of probiotics and enzymes

Blend of antioxidants and extracts

Lean muscle support

Weight control or fitness

Gluten free
Ud over, customers also take capsules and drink special Thrive nutritional shakes. And because health (and weight loss in particular) involves more than what you put into your body, Thrive Experience also incorporates tailored eight-week fitness plans.
Back to the patch, capsules and shakes, specifically, what exactly do you put into your body when you embark on the Thrive experience?
Taking a closer look at the ingredients reveals that these products are basically made up of vitamins, amino acids, enzymes, and probiotics (all that the body needs, but many diets lack), as well as the product of weight loss.
Of natural Forslean origin and a good amount of coffee bean and green tea MDFVFD
That is just about everything. You won't find any weird chemicals or barely legal drugs hidden in Thrive products. What you will find is a who's who of useful nutrients. And when combined with the aforementioned fitness plan, it lends some credibility to the weight loss and wellness claims attached to the Thrive brand.
Thrive life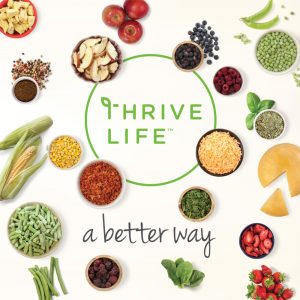 Thrive life (Not to be confused with Thrive Market) is a food company that sells freeze-dried groceries through tiered marketing.
Without a doubt, the question people often ask is "do you have any organic products?" And the answer is yes. Some products are certified organic, but it's a little more complicated than that.
See that getting a certified organic farm is a long and expensive process. You can grow your fruits and vegetables organically throughout the day, but because the USDA has the organic label, you can't make them all organic unless you go through this long and expensive process.
So the next time you buy organic veg at the grocery store and start praising yourself for paying "the real price of food," remember that you are actually paying the real price of the bureaucracy. Thrive life is on site where you get both natural and organic products.
Thrive life Ingredients reviews
I have done few researches on thrive life products and I have, as well, written a few articles on it. for this period of time, I have become a huge fan of Thrive's single-ingredient products because here's the thing: they really are an ingredient. Chicken may contain chicken. Strawberries contain strawberries. Kale.
They are frozen, dried and thrown into a box with an oxygen absorber. No need for preservatives.
Let's take a brief look at Thrive products
There are a lot of things that come in snack bags for convenience, but there are three things that only come in snack bags. These are fries of beets, carrots and spinach. If you're having a hard time getting your kids to eat beets or spinach, this is the answer you've been looking for!
Beetroot fries taste like a mixture of peaches and apples, and that's exactly what the anthem is: peach puree concentrate, applesauce concentrate, cranberry juice concentrate, juice concentrate beetroot, cranberry.
Spinach fruit snacks contain apples, appelsiner, bananas, and spinach, while carrot snacks contain peaches, jordbær, apple juice, carrot juice, and black carrot juice.
This is where I get a little bored and unpopular with my fellow Thrive Life enthusiasts. I'm not a big fan of yogurt bites.
Sugar comes first, before yogurt. Then, after yogurt, there is usually concentrated fruit juice (based on flavor), tapioca starch, flavor (what is it?) and riboflavin.
Comparing three Thrive companies
Trives livet (at ThriveFreeze.com we sell Thrive Life Freeze Dried products) only sell pre-made products, just add water. These types of products have their place. You take them for emergencies sometimes when you can't cook. They are also nice to have during daytime when you have a busy schedule. Også, when you are not organized yet and just need a quick meal.
Trives livet, trives marked, Honeyville, and Augason Farms have products available as individual ingredients in separate boxes. This means that they are easy to use and run in your own old, usual recipes. This allows you to "eat what you store and store what you eat". Thrive life only offers a few "just add water" meals, and thrive level probably offers the most (but they also have a lot of single-ingredient foods).
Thrive offers most single ingredient cans that contain absolutely no preservatives / additives. This means that a can of green beans is just that: 100% canned, frozen or never cooked green beans. Thrive market and thrive level also have many of these products, although Thrive has most of them. All three companies have individual ingredient boxes with additives or preservatives, although thrive has the least. Be sure to read the labels, if this is important to you.
Thrive life offers a few more things that make using your food easier:
A monthly cooking show with a professional chef

(

Chef Todd

),

H

A recipe site featuring Chef Todd's recipes as well as numerous consultants and customers revenue

The Thrive Guide

:

a book with tips on how to use most of their products

.
I don't know if thrive market and thrive level offer this type of support for learning how to use their products. When one knows how to use the product, the turnover is much easier and the waste is much less.
No matter where you choose to buy your food, if you want to make the rotation easier, Thrive Life has some fantastic food rotation systems – some for your pantry and others that are stand-alone.
Thrive Food packaging comparison
Most food storage comes in 10 tin cans (1 gallon cans), 5 til 6 gallon pails, or in bulk (you have to pack it yourself). Sometimes wrapping the food yourself can be the cheapest option. This make these foods vary in quality.
Thrive cans are double coated to prevent rusting on the outside or a "tinplate" taste on the inside. The last time I checked, Thrive Food uses thickest, highest quality cans of any company. Their cubes also come with a gamma cap which is amazing.
Thrive life produkter
At spise godt er noget, som flere mennesker prøver at gøre i dag. Bare fordi du ønsker at spise sund mad betyder ikke, du har mere tid. Du finder dig selv på udkig efter middag idéer, som vil omfatte hurtige opskrifter, der er altid sundt. Det er let at finde retter, som du gerne vil lave flere gange.
Uanset hvilke typer mad du kan lide at spise, du kan finde ideer til måltider, der passer til dine behov. Alt er tilgængeligt, fra hurtig mad til at få mad på bordet til sunde frugter, snacks osv. Alt hvad du skal gøre er at beslutte, hvilke du først vil prøve.
Du kan endda finde gode middagsideer til en vegetar. Der er så mange gode sunde fødevarer at vælge imellem; selv kødelskere kan vælge at prøve disse retter fra tid til anden. Endnu bedre, så mange retter inkluderer kød og proteiner, majs måltider, øjeblikkelig hvide ris kartoffelstykker osv. giver et kort resumé af, hvad blomstrende produkter indebærer.
Blandede bær (jordbær, blåbær og hindbær)
Virkelig, enhver frugtblanding, som du let kan blande, er fremragende. Disse bær er gode kilder til fiber og antioxidanter. For nemheds skyld, du kan endda købe store poser med frossen frugt og afhente de nødvendige portioner om morgenen, og de skal være klar til at spise tidligt om eftermiddagen.
Gulerødder er en god kilde til fiber og A-vitamin. Forbindingen på den lette ranch er bestemt ikke så sund som at spise gulerødder, men kun et lille beløb giver det ekstra boost for at få det til at se ud "smagfuld" ". Jeg skal til lys ranchen fordi, efter min mening, den fedtfrie ranch har en frygtelig smag … bare hold det med 2 spiseskefulde eller mindre.
Blandede bær (jordbær, blåbær og hindbær)
Virkelig, enhver frugtblanding, som du let kan blande, er fremragende. Disse bær er gode kilder til fiber og antioxidanter. For nemheds skyld, du kan endda købe store poser med frossen frugt og afhente de nødvendige portioner om morgenen, og de skal være klar til at spise tidligt om eftermiddagen.
Grøn peber er en god sprød snack, giver en god fiberkilde, og noget af gårdssauce tilføjer smag uden meget negativ indvirkning. Bare hold sauce / sauce til 2 spiseskefulde eller mindre.
Agurken tilfredsstiller den sprøde trang og en god kilde til vitaminer. Prøv en hummus med lidt ekstra zing, som dild hummus, for at tilfredsstille det salte trang.
Det er naturens perfekte mad. Kyllingæg, som ofte spises af mennesker, er fyldt med protein og cholin, som er vigtige i produktionen af ​​essentielle aminosyrer. Den indeholder flere vitaminer, såsom vitamin A, B2, B6, B9 og B12, og mineraler såsom calcium, fosfor og kalium. Æggeblomme indeholder alle vitamin A, D og E. Når æg spises rå, de giver kroppen styrke og energi.
Korn såsom ris, byg, hvede og majs er basisfødevarer i mange lande. De er klassificeret som korn og er den vigtigste afgrøde i verden, med meget rige mængder protein. Havre er korn, der er meget rig på protein. Havremåltider serveres bedst under morgenmaden, da de giver tilstrækkelig energi til dagen.
Valnødder er generelt sunde, når de er rå. Mange nødder er en god kilde til vitamin B2, E og indeholder spor af mineraler som magnesium, fosfor, kobber og kalium. Rå nødder er hovedsageligt rige på protein, folinsyre og fiber. Valnødder, hvis ikke kogt, betragtes som de sundeste, med dobbelt så mange antioxidanter som andre nødder.
Frugter er meget dyrebare for mennesker, fordi de er en kilde til vand og gode fibre. Det er også en naturlig kilde til C-vitamin. De fleste frugter er også rige på protein, inklusive bananer, æbler, meloner, mango, ferskner, appelsiner, kirsebær, jackfrugt og oliven. At berige din krop med protein, du kan medtage disse frugter i din kost. At tygge nogle af disse frugter til snacks vil også give dig et sundt proteinforøg.
Bladgrøntsager er generelt højt i protein, lavt fedtindhold og lavt kalorieindhold. De indeholder også C-vitamin, lutein, carotenoider, folinsyre og vitamin K. De er rige på calcium, jern og kostfibre. Grøntsager med højt proteinindhold inkluderer spinat, broccoli, kale og salat.
Cookies hjælper med at tilfredsstille dette trang til kulhydrater. Fuldkornkager indeholder fiber og antioxidanter. Ud over fordelene ved vitaminer og proteiner i mejeriprodukter, ost holder dig tilfreds i længere tid og forhindrer dig i at spise oftere.
Edamame er en god kilde til fiber og protein. Du skal finde dem på den frosne madø i supermarkedet. Optø og skræl en fuld sandwichpose og spis dem som en snack. For lidt mere smag, tilsæt en knivspids havsalt og ryst den i posen.
Det er den perfekte blanding af sødt og sprødt / saltet. Mandler indeholder fedt, men det er godt fedt. Rosiner er en god kilde til fiber. Prøv blot at tilføje en knivspids havsalt for at tilføje lidt ekstra smag til mandlerne.
Selvfølgelig, denne snack har mange ulemper (fed, kolesterol, natrium), men mængderne er lave, og proteinerne vil tilfredsstille dig længere for at undgå fremtidige trang. Det er en sund snack sammenlignet med en pose Doritos.
Æbler er en god kilde til fiber og C-vitamin. Prøv at holde æblets hud, fordi den indeholder meget C-vitamin. Jordnøddesmør har mange proteiner, der holder det længere. Bare hold ikke mere end 1-2 spiseskefulde.
Thrive Market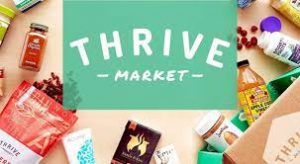 Thrive Market is an American e-commerce membership-based retailer offering natural and organic food products. It was founded by Nick Green, Gunnar Lovelace, Kate Mulling, and Sasha Siddhartha. According to their website,
It majors basically on 5 all natural, plant-based, non-GMO, gluten-free and nutritional health enhancing products all individually wrapped making them very portable and very easy to take. With all these, there's no need to mix, measure, or set reminders to take them.
Simply wake up, take 2 of the capsules and 20-40 minutes later drink the Lifestyle Mix shake and apply the DFT.
Clean Beauty, Non-Toxic Home Organic Pantry Staples
Below are few features processed by thrive market
Logging in on Thrive Market app, it's easy to use, fast and easy to use. it's easy to add things to cart as soon as you see them running out.
For trives marked, you pay $60 annual membership fee, and sign up. Although you can most likely find many of the same products at other online retailers and at local grocery store. But the thrilling part is, for every paid membership they offer a free membership to a low income veteran, public school teacher, or family.
Here's another bonus: If you spend more than $ 49, shipping is always FREE.
Talking about their user interface and payment process, all are very easy to navigate, they carry a lot of food and non-perishable items that we use regularly, and the packing and shipping are impressive. They use sturdy materials and do an amazing job packing the glass separately from everything else and plastic bags for anything that might leak.